Bali ATV Ride and Ubud Tour
March 23, 2016
Bali Water Sport – SPA – Sunset Dinner Tour
March 23, 2016
Bali Elephant Safari Ride and Ubud Tour Bali Elephant Safari Ride and Ubud Tour is one of best Bali Combination Tours Packages that you can enjoy for 30 minutes of elephant riding at Bali Elephant Park Taro combine with visiting places of interest of Ubud Village. in this journey you will enjoy the fantastic experience of 30 minutes ride on Sumatra's Elephant in the elephant park taro one of the best elephant park in bali. An then it will be continued to join the Ubud tour to see Celuk Village, Batuan Village Temple, Balinese house compound, Ubud monkey forest, Ubud art market, Elephant safari park, and also tegenungan waterfall that are all completing your wonderful experience during vacation in this Bali island. The private air-conditioning vehicle, delicious lunch and professional english speaking driver guide are all features to keep your convenience trip.
Celuk Village is formerly as a traditional Balinese village located in the entrance gate of Gianyar Regency ad has changed into a tourist attraction with its trademark in the form of gold and silver. The village located in Sukawati District, Gianyar Regency has the uniqueness and excellent in production of gold and silver handicrafts. Almost all the families and villagers are Balinese who professional, skilled and art soul to develop the creative design and variety of products related to the gold and silvers. This craft village with long historical has been producing gold and silvers that penetrating the local, national and international markets. Various type of jewelry, either as souvenirs or export commodities are produced in this village includes variation type of rings, necklaces, earrings, hairpins, brooch and others. In addition to this, the artisans at Celuk Village are responding to the market demands and also produce the modern products such as medal, models and culture symbols.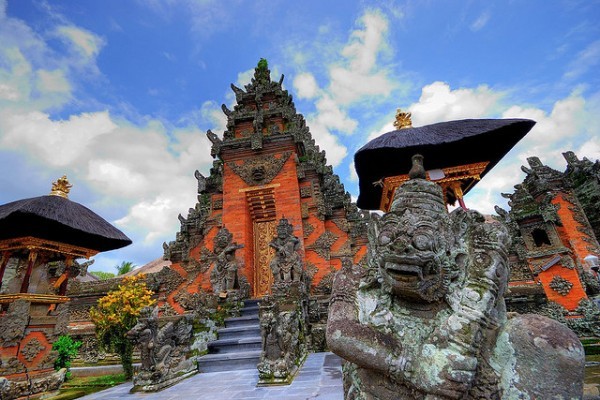 Batuan Village Temple is a beautiful Hindu temple set in the middle of Batuan Village strategically located beside of the main road from Denpasar to Ubud. It is a local village temple and a part of three major temples in a village that is called Tri Khayangan. Batuan Temple is beautifully designed with Balinese architecture and antique Balinese ornaments décor entire temple building including the entrance gate. As usual temple in Bali, Batuan Temple is also featured by the three areas includes Nista Mandala (outside area) Madya Mandala (Middle area) and Utama Mandala (Main temple area).Sukawati District and Gianyar Regency.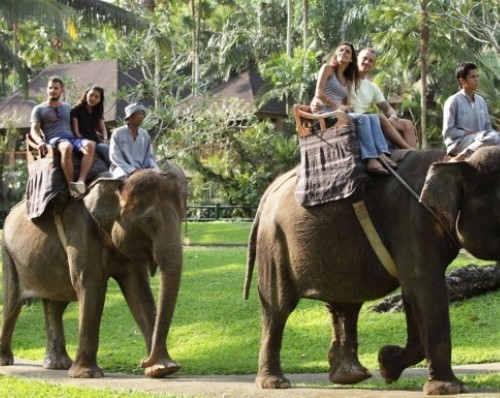 Elephant Safari Park, It is located at the Village of Taro north of Ubud. Experiencing a leisurely stroll through the Elephant Park and surrounding forest on the back of a gentle Sumatran Elephant is a must for any visitor to Bali. The Elephant Safari Park at Taro has Bali 's largest herd of 30 Elephants including 2 baby elephants that can be hand fed. Sit back and relax as you make your way to the Elephant Park in our late model Air-conditioning Buses, enjoy the spectacular views of the Rice Paddies, Local villages, and the Balinese people as they go about there day to day lives.The Elephant Safari Park Taro has been acclaimed as "The Best Elephant Park in the World" by (Crocodile Hunter) Steve Irwin, many other world celebrities have visited the Park such as David Beckham & Posh Spice, Dolf Lungdren, Julian Lennon, Johnny Knoxville & Steve'O stars of the Jackass Movies plus many more. The Elephant Safari Park at Taro is quite unique, as there is not another Elephant Park like this anywhere in the World.
Batuan Balinese House Compound is located around 15 km from Denpasar. Visit a local people lives in everyday life, this private house compound built in original Balinese concept , known as " kosala-kosali concept ".This form of concept is same anywhere in Bali. All the placement in the building is the same inside the compound. Each building or pavilion has their own function, a building to make the offering thing of the festival in the east. Kitchen in the south side, building in the west becomes the room of parents and, building in the north side, it is a room of children or a building to put a possible offering thing. Inside the compound also found one of the most important building which is "family temple", this family temple will be placed in a northeastern side of the house compound.
Ubud Monkey Forest is a nature reserve and temple complex in Ubud, Bali. It houses approximately 340 monkeys which are known as long-tailed Macaques (Macaca fascicularis). There are four groups of monkeys each occupying different territories in the park. The Sacred Monkey Forest is a popular tourist attraction in Ubud, and is often visted by over 10,000 tourists a month.
Ubud Traditional Art Market where the existence is not far different from other markets available in the tourism area. This market as a society economics center of Ubud and it is apposite to the existence of Ubud Empire that is called Puri Saren. The market is unfolding from west to easterly divided become two group with different purpose. There are two markets available at the same area those are one block at the West side is for a traditional artistic market and another block located in the east as an everyday traditional fundamental market requirement. This market is opened every day about at 08:00 until 18:00, even some from them still open until nighttime. While the traditional market for the fundamental requirement is opened everyday at 06:00 – even before that there is morning market started at 04:00 morning.
Tegenungan Waterfall is one of the many tourist places and destination in Bali, it is popular with waterfall. Tegenungan waterfall lies at Tegenungan Village, approx. 5 kilometers, south east Ubud.To get to this waterfall take arund 16 km from Denpasar City or arund 30 minutes driver by car. The water is furthermore clean and clear. It is suitable for washing or just playing around water and the most interesting Waterfall to visit during your holiday in Bali Islands.
---
 Duration:

10 hours

 Departure:

08.30 am

 Extras:

All inclusive
Adults : 13 years and above
Children : 5 years to under 12 years .
Highlights
35 Minutes Elephant Ride
Family friendly trip
Private fully air-conditioner car
Experienced english speaking driver
All the entrance fees and tickets are included
Visit Ubud art villages, the artistic hub of Bali
Surround yourself around hundreds of native Monkeys in the Ubud monkey forest
One Set Menu of Indonesian Food
Free use of sarong when entering the temple
Inclusion
Private Full Air-Conditioning Car
Professional English Speaking Driver
35 Minutes Elephant Ride
Elephant Show
Elephant Feeding
Elephant Park Admission
All Entrance Tickets
Lunch Crispy Fried Duck or Grilled Pork Rib
21% Government Tax and Service
Mineral Water
Free use of sarong when entering the temple
---
Tour Itinerary
08.30 : Pick up from your hotel
09.45 : Celuk Village
10.00 : Batuan House Compound
10.30 : Batuan village Temple
11.30 : Tegenungan Waterfall
12.30 : Lunch
13.30 : Coffee Plantation
14.30 : Taro Elephant Ride
16.00 : Ubud Monkey Forest
17.00 : Ubud Art Market
the above itinerary is only rough timing, would be change depend on the traffic condition
Additional info
Get special price for group booking
Suitable for Individual travelers and groups
A minimum 2 (two) participants is required to join the tour
Reasonable and fair price and that means no hidden charge
Private tour, that's mean there is no other participant, just only you and your companion
For single traveler, additional charge 60%
Recommended clothing are Casual clothes, semi-or fully-covered as a sign of respect when visiting the Temples
The payment can be done by cash either US $ or Rupiah, based on the latest exchange rates after we finish the tour
Hotel pickup and drop off in major areas of Kuta, Legian, Sanur, Nusa Dua, Seminyak, Ubud